Seismic Awareness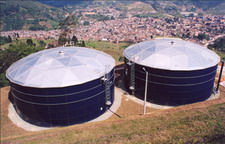 Is your storage and distribution system seismically protected? The odds are increasing every day that your district will encounter a major earthquake, so you should be aware of the various components of your system and their ability to survive a moderate to severe seismic shock.

A Guide to System Awareness
Storage
The older the construction, the more likely it is to sustain damage during an earthquake.

How many reservoirs do you have? Are they located in populated areas?

Are they buried or elevated? Underground facilities are usually more resistant to earthquake damage.

What kind of soil are your reservoirs built on? Sand can liquefy. Clays may amplify. Solid rock is the most secure.

Do you store hazardous materials such as chlorine?

Is your facility near a known earthquake fault? Maps of all known active and inactive faults in your area are available from various sources,

Click Here.

Are your storage reservoirs firmly anchored to the ground? Unanchored reservoirs in the Landers quake were thrown three feet in the air and dropped, instantly releasing all their stored water and giving them the appearance of crushed cans.

Do your reservoirs have internal baffling? Sideways movement of water (seesh) will damage a reservoir as easily as vertical movement.

What kind of valving is employed? Gate? Altitude? Manual? How are they controlled? Do you use Telemetry / SCADA ?
Pump Stations
How are they powered? Diesel? Natural gas? Electric? Or some combination?

Is on-site emergency power available?
If you think you are not protected, please contact us to assist you in finding the most efficient and cost effective way.