Seismic Controller Models
Seismic Controller Models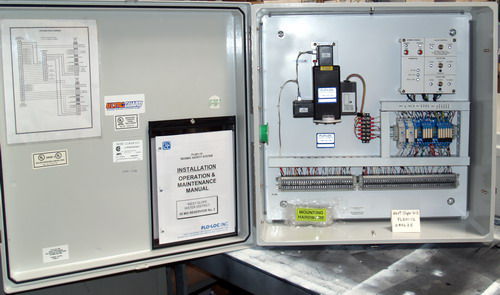 Standard Features:
System Hub: The FLO-LOC Seismic Controller Panel is the Hub for the complete system. This is where all control and status wiring for the equipment and SCADA* inputs to and exits from to operate and provide information on the FLO-LOC Seismic System:
FLO-LOC field wiring terminals - all the actuators and the POWERPAK in a FLO-LOC can connect to the Seismic System Hub (Seismic Controller)




SCADA terminals - all input and output wiring for the complete seismic system connect to the System Hub (Seismic Controller). The remote functions for SCADA operation of the valve actuator, POWERPAK status and controller features are accessed through this single location.

Standard FLO-LOC Interface:
FLO-LOC 24 VDC Power
Open/Close Commands
Valve Open/Closed Status
Valve Transition Status
Safety Switch Status (Actuator local/remote position status)

Standard SCADA Interface:
SCADA 24 VDC Power
Remote Seismic Sensor Arm / Trip
Remote Seismic Sensor Arm/Trip Status
Remote Valve Position Open/Closed Status
Remote Valve In Transition Status
Remote Key Switch Status (Actuator local/remote position status)

Operator interface panel – provides arm/open and trip/close push buttons, sensor status and valve position LEDs for panel operation

NEMA 4X Fiberglass Enclosure
Optional Features:
Independent control of multiple valves either at the operator panel or via SCADA . (FL201-1X)
SCADA and/or local LED indications for "AC ON", "Fuse Ok", "Battery Ok" and "Battery Low"
Service alarm
Stainless Steel Enclosures
Combination of Seismic Controller and Power Supply in one enclosure
* S.C.A.D.A. (SCADA) - Supervisory Control and Data Acquisition